ENROLL TODAY! Begin February 2019 - Graduate in August 2019
Be Working as a Massage Therapist in September 2019.
Experience the BEST Massage Education!
Start your new career today!
3 Professional Programs: Massage, Yoga & Personal Training

Therapeutic Massage Therapy Program - 1 day a week & a few weekends
Next Class Starts: Tuesday, February 5 & Graduates August 2019

Yoga Teacher Training Program (YTT)
Start: October 2018 & Graduate March 2019

Certified Personal Trainer Program
Start: March 2019 Graduate May 2019

Download FVSM CATALOG here - click this link
Download Class Schedule here - click this link


Mission Statement: FVSM is dedicated to meeting the evolving health care needs of the public through the education of highly skilled massage therapists, yoga teachers and personal trainers. We use state of the art technology and teach best practices in all of our programs.
FVSM Massage Students learn Swedish / Relaxation, Clinical / Medical Massage / Therapeutic / Treatment / Neuromuscular techniques as well as Pregnancy, Reflexology, Lymph, Polarity, Aromatherapy, Hydrotherapy, Hot Stone Massage & Sports Massage.

Education Goal: Excellent Education & Affordable Tuition
To provide the best, most comprehensive education at a tuition that is affordable and allows students to succeed in a rewarding career. Providing a positive, collaborative environment with small classes.
---
Professional Services offered
Corporate Chair Massage / Wellness Talks
Pilates, Yoga, Personal Training
Massage, Facials & Nutrition
Services offered by:
Stephanie Lynn Hall, MS, RDN, CSCS, WLMT,
E-RYT, NASM-PES
Tom Finch, WLMT, E-RYT, CPT, CES, NASM-FNS
Call or text: 920-915-0744
Email: FVSMinfo@aol.com to schedule an appointment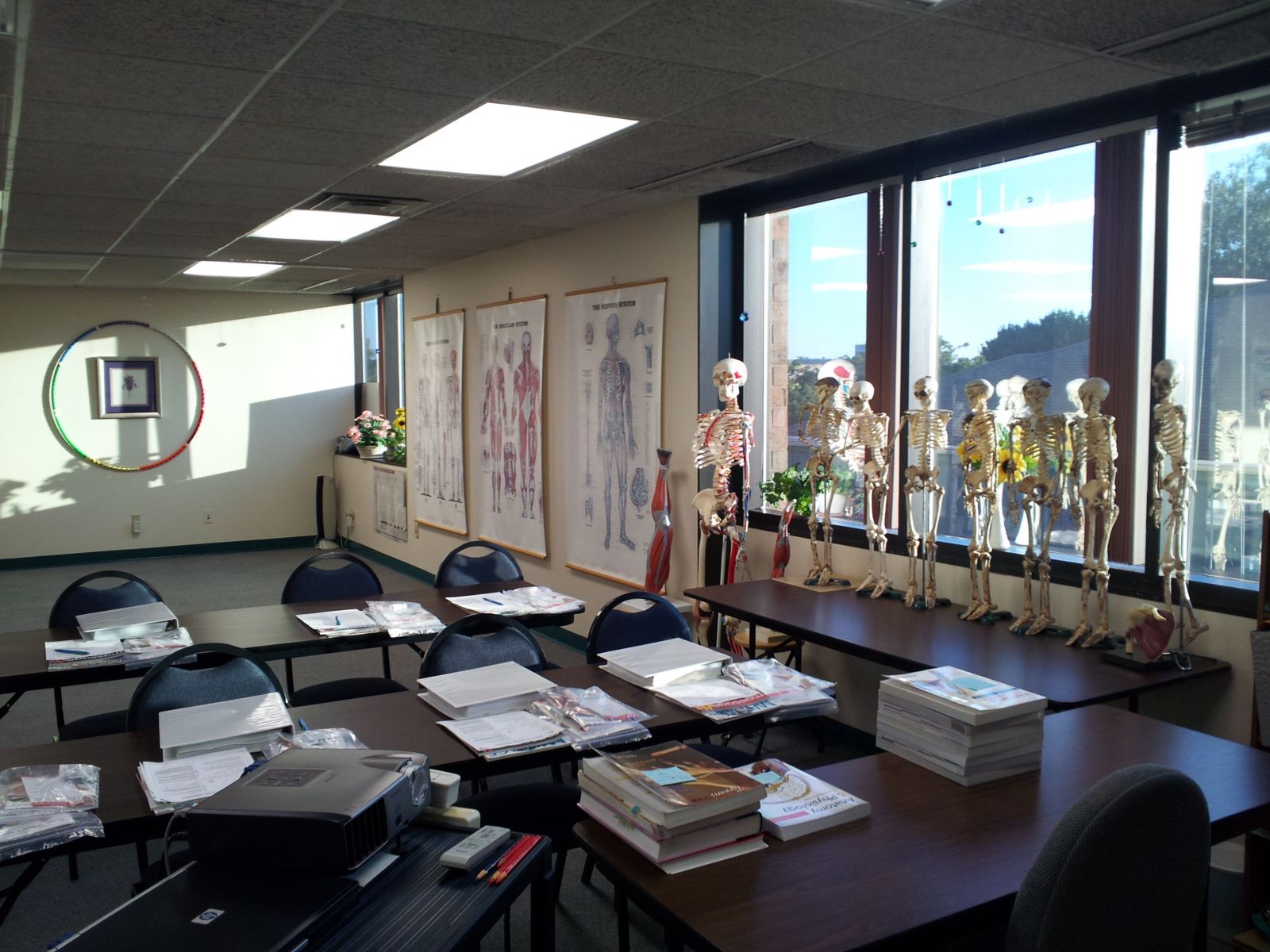 The Classroom at Fox Valley School of Massage, Yoga & Personal Training
Website Revised: 09/18/18